Join us on the fishing trip of a lifetime for peacock bass, the fabled arapaima, redtail catfish or the huge piranha that can reach a fighting weight of more than 200 kilos. On this tour you have the opportunity to experience everything from heavy and passive catfish fishing to light and active fishing. Either way, you can look forward to 5 days of fishing action and heavy fights.
At 3250 kilometers, Madeira is the largest tributary in the entire Amazon. The river is actually considered one of the largest in the world, with a water flow of an impressive 31,200 cubic meters per second. In comparison, the Gudenå River has a water flow of 32.4 cubic meters per second. It's not without reason that Porto Velho, through which Madeira flows, is often referred to as the 'angling capital', because with more than 800 different species of fish, the richness of the river is nothing short of impressive. Maderia is world-renowned for a large population of arapaima, jau and red tail catfish, which are also the main species we will be fishing for in Madeira.
The Jaci is a small tributary of Madeira and the hotel we're staying at is almost on the banks of the Jaci and Madeira, so from the hotel to the boats we fish from is less than five minutes by car. The hotel is family-run and every morning we have access to a large breakfast buffet where everything is homemade. We stay in shared double rooms with air conditioning. Each room has a shower and toilet. In Jaci there is good fishing for tiger catfish, xx catfish, freshwater rays and piranhas. In the lower part of Jaci there are plenty of opportunities to see river dolphins.
Samuel is a man-made water reservoir and part of the Jamari River. In Samuel, we sail between 10,000s of flooded trees that provide the perfect hiding places for the voracious peacock bass. The water in Samuel is crystal clear and the sight of a school of peacock bass shooting out of hiding in pursuit of your wobbler is something that can really get your heart rate up. In addition to being lightning fast, peacock bass are hard fighters.
Fishing tackle is included in the price!
Often, going abroad to fish can be a costly affair. At Ifish Travel we have a "gear hotel" where you as a customer will be equipped with free fishing gear for the trip. In concrete terms, this means that you as a customer don't have to spend money on wheels, rods, leader lines, steel leaders and hooks, as these are all included in the price. In practice, this means that you as a customer do not have to think about what fishing gear to bring. If you want to bring your own fishing gear on the trip, we are of course available for advice and guidance when it comes to gear selection. On this page you can read about the gear we recommend for fishing in Maderia, Jaci and Samuel.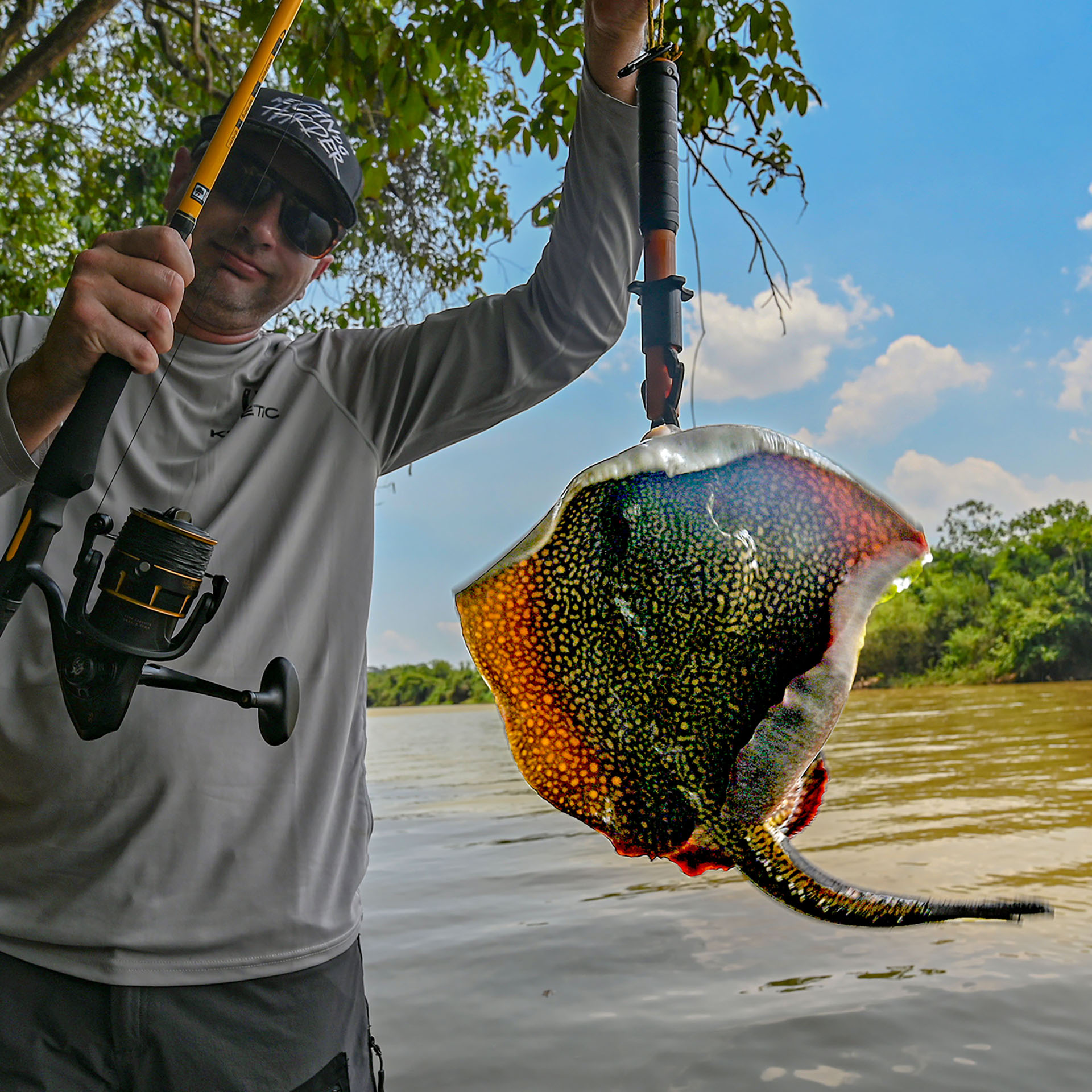 Live the dream and take the fishing trip of a lifetime to the Amazon, where parrots, caimans and river dolphins are frequent visitors. Although the Madeira, Jaci and Samuel area is less than 100 kilometers from Porto Velho, the capital of the Brazilian state of Rondonia, you feel surrounded by the rainforest when boating on the rivers.
When we say everything is taken care of from the moment you're picked up in Porto Velho to the moment you're put on the plane back home, we mean it. All you have to do is relax and fish. There are people to make sure all practical tasks are taken care of.
Call for more information
+45 20485045